A video featuring a Loyola Academy student using racist language surfaced on social media in early June, two students who have seen the video confirmed. The video, which captured a high school girl saying an offensive slur and then laughing, was spread by other students on Snapchat and Twitter.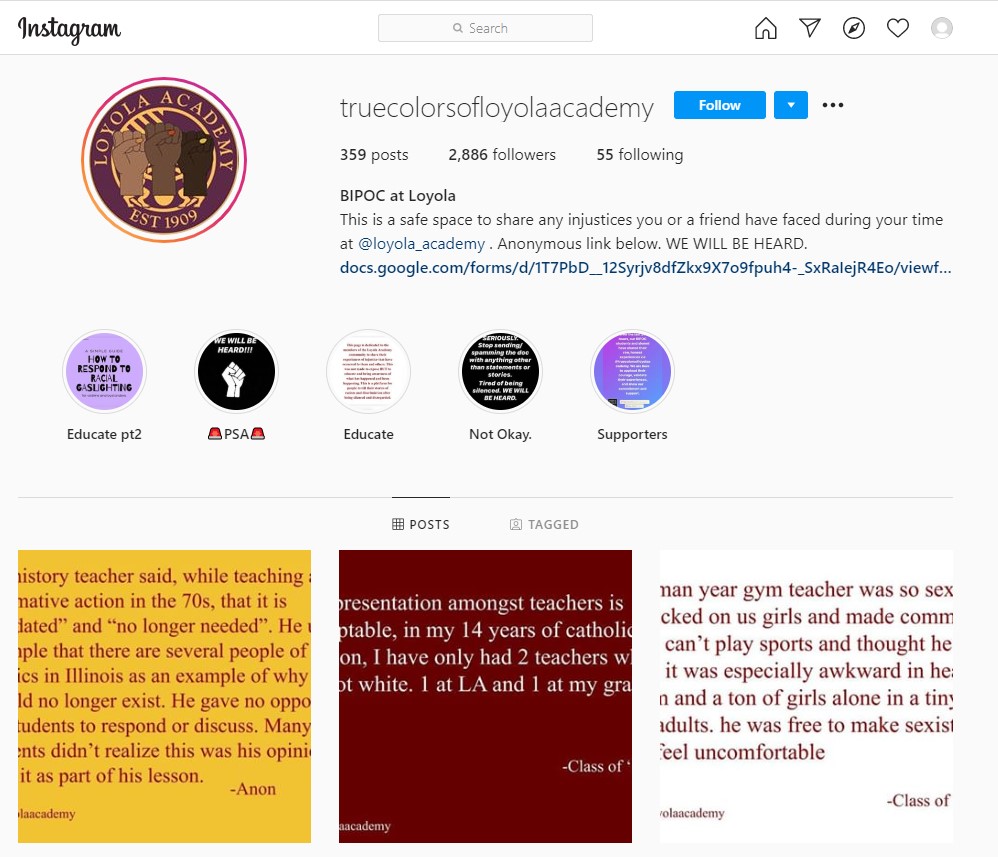 A week after the video was posted, Loyola Academy sent an email to all parents and students acknowledging the incident and "assuring" the community that disciplinary action had been taken.
For many students, however, the letter did little to repair the harm caused by systemic discrimination that students of color experience at Loyola Academy. The Instagram account "True Colors of Loyola Academy" has begun to chronicle these experiences by sharing anonymous posts submitted by current and former students and faculty members. In just seven days since its inception, the account has posted 320 submissions and accumulated some 2,585 followers.
Many of the posts revolve around racist, sexist, homophobic and transphobic episodes that occurred within the private Jesuit school, dating back to 2002. And in nearly every post, the common denominator is the "school's lack of response."
So when students, like Dajour Stephens, watched the most recent video of blatant racism from a fellow classmate, he was not all that surprised. Nor was he surprised when he learned that the administration only disciplined the student with one day of suspension, or that the student was already bragging about "getting away with it."
"That happens at Loyola all the time, and they don't do anything about it," Stephens said. "It seemed like they were putting it under the rug and acting like it didn't actually happen."
When Stephens spoke out about the video and tagged the academy in a thread on Twitter, his mom received a call from the academy's principal, Charles Heintz. Suddenly the academy was concerned about Stephens' future and suggested that Stephens take down the tweet.
During the week between the video's discovery and the academy's June 6 letter recognizing the incident occurred, it appears that the academy was investigating who originally shared the video on social media. Several academic counselors reportedly emailed other students of color, asking them who uploaded the video because they thought there should be repercussions for them, Stephens said.
The "True Colors of Loyola Academy" account has documented rampant discrimination and racism at Loyola Academy. Although the institution boasts about its diversity with students from over 92 zip codes across the Chicago area, students' submissions indicate that students of color are frequently made to feel uncomfortable by their white peers and instructors.
In one post, an anonymous alumni referenced the "Alumni Spotlight" column that the academy periodically publishes on their website. The post's author calculated that between 2015 and now, only two out of 43 featured alumni were non-white and none were Black.
While the Instagram account grew more online attention from the community, two students started a petition outlining specific changes Loyola Academy could make to combat racism. The petition, which has amassed over 2,800 signatures, calls for the academy to hold more mandatory assemblies addressing racial injustice and implement stricter punishments for students who use racial slurs, among several other demands.
Along with several other issues students have identified as problematic within the academy's community, is the lack of a zero-tolerance policy for racism in the student handbook, Stephens said. In fact, the student's 160 page handbook only makes two mentions of "race" and "racist."
The first indicates that if racist material is found in a student's locker, the student may be punished. The only other reference to race is found in relation to a state and federal law that forbids harassment based on race. The word "racism" is not printed in Loyola Academy's student handbook.
When Stephens told Heintz that a zero-tolerance policy towards racism needs to be implemented, he was brushed off.
"He didn't really say much," Stephens said.
As to why according to reports, racist behavior is continuously tolerated at the Academy, Stephens can only speculate that "it has a lot to do with donations" and less about the school's concern for students' wellbeing.
"They need to do more so that the students of color feel like they matter, they're safe," Stephens said. "Because I feel like right now, people don't feel safe."
Loyola Academy did not respond to our multiple requests for comment.