High numbers of D39 staff resignations, including former WEA president Rodas, signal teacher discomfort.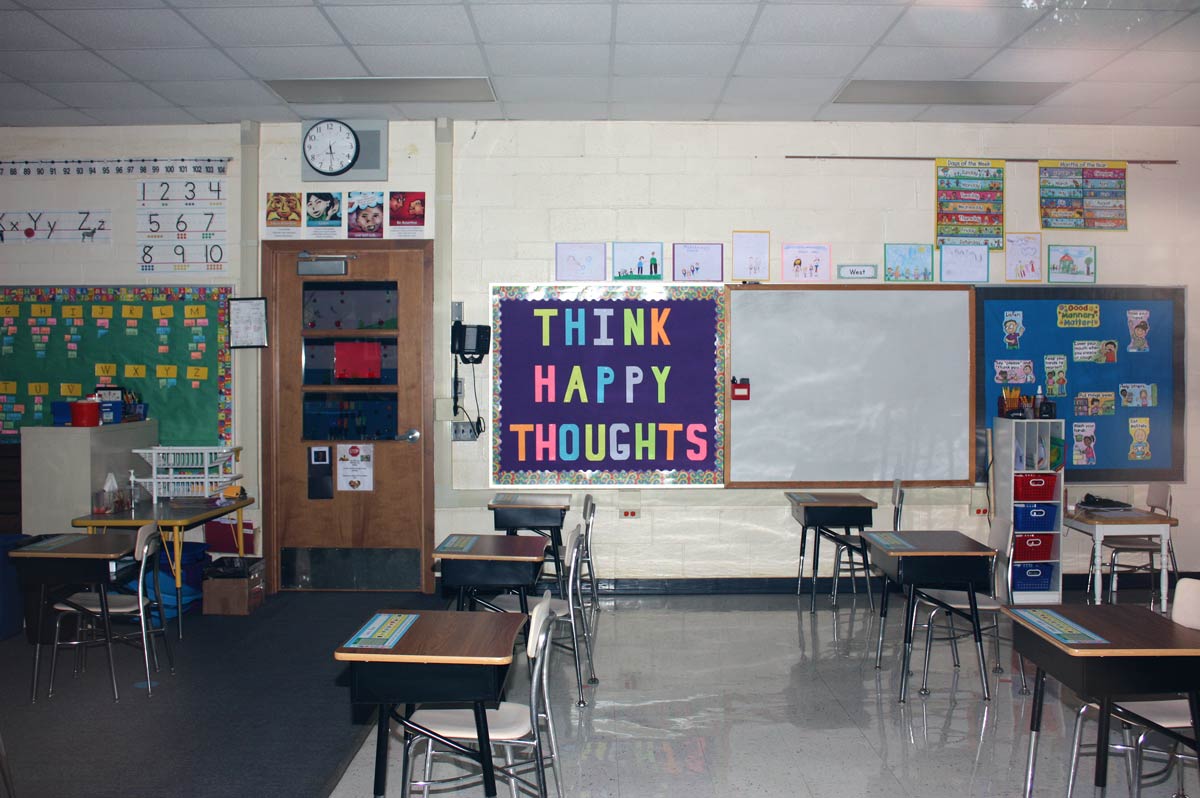 The Wilmette School District 39 ended its second week of the school year Friday, but a cloud of uncertainty still hangs over the district even after two weeks of instruction.
On July 30, the district released its fall reopening plans, detailing a full return to in-person learning at the elementary schools and a hybrid model of in-person and remote learning on its grades five to eight campus, with the option of full remote learning available for families who wished. In the weeks leading up to the start of the school year, the district walked back its initial plan to jump back into the classroom right away and instead decided to implement a progressive transition to in-person instruction.
Following the updated model, all students attended the first week of classes remotely and will slowly transition to the in-person models, except for those who opted for a completely remote semester. This week and next week, in-person students will have gone to school one day of the week, and by the first full week of October, the district hopes to have the models fully implemented.
According to the District 39 Reopening Guide, the shift to a progressive transition was based on district-wide needs for professional development, training and support in order to properly transition staff and students and to ensure safe adjustment to the new protocols.
"We adjusted the calendar in consideration of new guidance in terms of health and safety as well as readiness for full implementation of our plan with in-person learning," District superintendent Kari Cremascoli said.
To monitor the implementation of its reopening plans, the district created a Metrics Reopening Advisory Team. The team, made up of district administration, teacher and staff union leadership, parents, medical professionals and District 39 Board of Education members, will meet every Friday to evaluate COVID-19 transmission and other metrics and use that data to inform adjustments for the subsequent week.
However, despite the adjustment to a progressive transition, which former Wilmette Education Association (WEA) president Anne Rodas and other proponents of a district-wide shift to fully remote instruction saw as a minor victory, the start of the school year has still felt rushed for many.
Many parents, especially in the remote group, didn't know teacher assignments or schedules until just a few days before the semester began. Parents received little in terms of training with new online materials, and parents of students with special needs felt especially neglected, as information about accommodations and the scheduling of Individualized Education Program (IEP) and 504 Plan meetings were also very delayed.
"It's very apparent that the investment financially and in human resources is for in-person learning," Alexandra Eidenberg, a District 39 parent and member of the District 17 Education Council, said. "There has been a lack of support for students with IEPs and 504s, and the lack of contact is creating even larger issues. There has also been a lack of communication and poor presentation of information, which has made it all even more frustrating."
Eidenberg is not the only parent who feels there was a lack of information from the district leading up to the start of the school year, creating a somewhat rushed and stressful atmosphere. She created a Facebook group for the parents of remote learners at Romona Elementary School to connect, and similar groups exist for other District 39 schools. "It's been great to connect with all the e-learning families as we prepare to enter a crazy year," she said.
Many teachers and staff too seem stressed about the start to the school year, though few are willing to publicly comment on it. All current staff members contacted for this story who responded wished to remain anonymous.
"Teachers really didn't have time to prepare," a district employee said. "Teachers were reassigned to teach things that they hadn't taught before, and they were not given any training for that and they were told very last minute. That's not good for anyone. That doesn't benefit students. That doesn't benefit teachers."
Anne Rodas, as head of the local teacher's union this summer, was one of the few who attached her name to public comments disagreeing with the district's plans. She pushed hard for the district to move to an all remote format and quoted that 80 percent of surveyed WEA members insisted on remote learning only this fall. They did not get their wish.
"I feel like the teachers feel undervalued, they feel unheard, they feel like pawns, they feel like they're not cared about," Rodas said. "I heard the board members [of the Metrics Reopening Advisory Team] were pushing to accelerate the reopening plan, and I know the union won't support that. They are still in ongoing negotiations."
Most parents and staff members seem to agree though that a lot of negative attitudes toward the district and the fall plans could have been avoided if the plans had been announced sooner. Eidenberg said, "At first I thought the task force was a great idea, but we lost lots of time where the elected school board and hand-picked principals and superintendent could have been making plans and decisions."
Eidenberg, as a member of the District 17 Education Council, was able to be a part of conversations with the leaders in other districts, including the Glenview, Evanston/Skokie and Cass School Districts, and gained a broader sense of what was going on locally but outside of the Wilmette district.
"Other districts have more child care options, a 24/7 tech help desk, weekly communication from superintendent and principals and had a very clear game plan early on," Eidenberg said. "These eleventh-hour decisions don't work for families. [The other districts] made decisions earlier and started investing earlier. There was much more communication with families. There were opportunities to connect and meet the teachers."
When asked how the planning and implementation process could have been improved, a district employee said, "Coming up with a plan and giving everyone more time to prepare for our reopening. We were given finalized information really right up to a few days before school was starting. Some teachers didn't even know who was in their class until very late."
Superintendent Cremascoli is proud of how the plans turned out and of the process that the district went through, but she also recognizes how difficult the time constraints have been.
"More time in every way would be beneficial to everyone at this point," Cremascoli said. "Guidance continues to evolve and we must be prepared to incorporate new guidance at every turn. We recognize that teaching regardless of the model that we use at this point is exceptionally difficult. We believe that we have implemented programs that really keep at the forefront students' health and their mental wellbeing. [The planning process] was stakeholder driven and had teams working all summer long to make sure the plan was the very best it could be."
But despite best intentions, the reopening plan still created conflict. It was unclear to parents that, especially at the elementary level, remote classrooms would be made up of a mix of students from different schools, that the general teachers would often be reassigned specialists, and that the remote class sizes would be larger than in-person sections.
People were forced to make tough decisions with limited information available. When choosing whether or not to opt for remote learning for their children, parents had to balance the benefits of in-person instruction with the risks of COVID-19 and make a decision for the whole fall semester factoring in uncertainty about the next few months and metrics that show that the coronavirus isn't going away.
Since August 28, suburban Cook County, which contains Wilmette, has been on the Illinois Department of Public Health's list of 30 counties at a "warning level" in regards to COVID-19, and the Village of Wilmette experienced a recent increase in its averaged positivity rate, moving up to 5.79 percent on September 9. Additionally, new reports from the Centers for Disease Control say that while children may be more asymptomatic than adults, even children with mild or no symptoms can still spread COVID-19 to adults.
"We would all love to be in person because that is the best for student learning, but we have to realize that we are in the middle of a pandemic," a district employee said. "Most people don't like remote learning or remote teaching. It's more work, but it's just something that is better for us in terms of health and safety."
Uncertainty about fall plans, reshuffling of teacher roles and an aura of fear about the coronavirus created a lot of turmoil for parents and district staff members this summer, which led to a flurry of staff resignations. Since May 1, 39 staff members resigned their positions and four took tenured leaves of absence, according to documentation from the district and staff sources. That number is up from 33 resignations and two leaves of absence between June and September of last year. Anne Rodas, who was the WEA president, was one of those who resigned this year.
"I'm heartbroken to leave the district," Rodas said. "I didn't want to walk away from my union position. For eight years I've been an elementary Spanish teacher. That was the job I wanted. But on top of all the work being union president, I was reassigned to be a fourth grade classroom teacher, which is something I'm certified for, but I wouldn't say I'm qualified."
After teaching the remote classroom section for three days in a role and medium she was not familiar with, Rodas resigned.
"I've been agonizing, since I found out, over whether or not to stay," Rodas said. "I loved the kids, but I knew to serve them well I would have to work 12, 13 hour days, and I couldn't do that to myself and to my family. I have amazing relationships with parents, I'm passionate about teachers, students and Latino cultures, but I couldn't do what was best for the students in the class."
On top of the difficult conditions, teachers and district staff members seem unsure and concerned about reaching out, both to the district and to the public. Of the 59 district staff members contacted for the story, only three responded, and all three wished to remain anonymous.
"We're not being made very comfortable in expressing our opinions. It really hasn't been made clear on whether it's okay for us to talk," a district employee said. "We know it's okay legally and ethically -- we have the right to free speech -- but it's more nuanced at the level of our workplace. The reason why I'm hesitant to share things is I don't want to share and then hear, God forbid, 'You made our district look bad in some way and we're going to let you go.'"
Difficult times have forced hard choices on many. From district higher-ups to teachers and staff to parents and their kids, the unprecedented times have been highly divisive and challenging.
"There is a huge disparity in what people feel," Stacey Blasko, a District 39 parent, said. "Some people feel really strongly both ways, and I tend to be surprised how strongly. One mom I know will not go anywhere required to wear masks, and I know others who won't even go on a long drive for fear of having to use a public restroom."
All groups want what is best for the students, but opinions and ideas on how to do that can look very different. Plans need to consider every party involved, and a lot of teachers and staff members feel like their side has not been prioritized thus far.
"All of us as teachers are student-centered most of all when thinking about reopening," a district employee said. "We want what's best for students, but without teachers, there is no school, and without teachers, there are no successful students. In order to be student-centered, we need to also be teacher-centered. We need just support for teachers, adequate training for new things we're expected to do and also social and emotional support. It would be nice just for someone to say we understand, we see what you're going through, we're here for you."